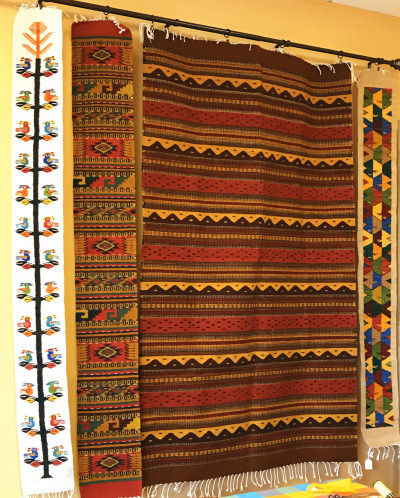 Mexican or Southwest decor epitomizes a style that goes beyond borders. This warm, rustic style of old Mexico and the U.S. Southwest has become increasingly popular for its ability to provide a comfortable, relaxing ambiance. For those who have come to appreciate the importance of our home surroundings in offering a haven from the pressure and hectic pace outside, this style can be particularly effective.
The four keys to Southwestern decor are found in the colors, furniture, textiles, and accents that evoke the natural landscape and the human history of the region. Gone are industrial high tech materials and designs in favor of leather, wood, terra cotta, ceramic, and such. The mix of earthy tones and natural materials, often hand worked, punctuated by bright woven textiles and beautiful handcrafts, creates a surprisingly livable blend of calm and energy. Visit www.mez-decor.com for more home decor.
(1) Color Scheme: Your color palette starts with walls and floors with neutral desert tones (think sand!), or perhaps pale cactus green or the softest adobe pink or cream, and rich terra cotta. These neutral tones serve as a perfect foil for the splashes of primary yellow, turquoise, and sunset orange that lend that southwestern touch.
(2) Low Tech Furniture. If you've always wanted leather, consider collecting pieces of equipal furniture. Complement them with knotty pine tables and chairs, some with rush or leather seats or painted frames, Choose rustic metal knobs pulls or other accents that reveal the human touch. An advantage of this style is that the well-built pieces will withstand years of heavy use.
(3) Natural Fabrics. Think fiesta! Find gaily-colored woven throws and pillows the above colors that automatically elicit smiles and positive energy. The traditional striped serape wool capes can easily be transformed into curtains, pillows, and other coverings to pull the look together. Handwoven wool rugs with natural dyes and indigenous themes instantly become conversation pieces, whether used as throws, on the floor or as wall tapestries.
(4) Rustic Accents. Continue the theme by adding light with Mexican tin mirrors and rustic light sconces. Some carefully selected Talavera pottery and hand painted ceramic tiles will give your home an individualized touch that lifts it out of the ordinary, as will other Mexican and indigenous handicrafts, from figurines to bowls, and even a well-placed cactus in a hand thrown pot.