The staircase functions as a bridge that combines upstairs and downstairs of a house. It should be made in a way that's safe and sound to the family members, visitors and everybody who uses it to ascend and descend. And it should be comfortable at the same time. The treads, handrails and stair raisers should be of the finest built. A staircase built in that quality brings an ornamental delight to the whole household. In order to get that done successfully one should take great care of the key factors in the process of erecting the staircase. Here are some important points which would be valuable to you if you ever think of having an excellent stairway to connect the upper and lower floors of your home.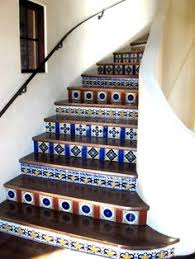 Ceramic tiles are better
Some people prefer wooden stairs since they're natural and look elegant at the beginning. But they easily wear out with the time, especially when wood is used for creating treads. Since the surface of the wood is a bit rougher than ceramics, dirt gets accumulated on it quickly. When once the sealant is removed from the surface, the fine finish of the stairs is gone for the good. Therefore, try to get ceramic tiles for the raisers in your home. And also, ceramics have a higher resistance to moisture. So, that's yet another reason to recommend ceramic as the fittest material to create raisers.
How to install ceramic tiles in stairs
Do it just the ordinary way as you install tiles in any other surface such as a wall, counter top etc. Level the thin set on the surface and press the tile into it. Keep the space between the tiles evenly using plastic spacers. When it comes to grout these lines, be careful to select a grout color that goes with the color of the tiles. After applying grout, wipe out the tiles with a damp sponge to remove the grout stains on the tiles if there are any. Let grout to dry and apply sealer afterwards. Fine grouting gives a perfect finish to the whole process.
Well, grout lines are a huge nuisance to any home owner since they get dirty very quickly. Dust and tiny particles of garbage get accumulated in the grout lines and give the entire tiled area a horrible look. Even the tiles may look old due to this dirt in the spaces. Therefore, you can even install a kind of special tiles which are without grout lines as a solution to that problem. But you can do it only when the tiled home is in a dry area. They are vitrified tiles which are made using compressed clay. Anyway, if you need to make your tiling project aesthetically pleasing to everybody, you need to pay attention to all these important points.
Safety is of great importance
There should not be any possibility of somebody to fall on your stairs and become the victim. It may be even a fatal accident that we must not even dream of happening. So, make sure that your stairs have no any sharp edges. Just as the workers say in their own jargon, all the edges should be 'bull nosed'. That means they should be rounded to avoid any hurts that might happen to the climbers. People use either natural stones or ceramic tile materials to bull nose the edges of the stairs. Apart from the safety factor, the bull nosed tiles are more durable than the ones with sharp edges. Anyway, you must not leave room for any doubts about the safety of the stair case. Safety and comfort are the most important factors.
Rounding the sharp edges or 'bull nosing' offers two options for the customers. They can discuss with the contractor beforehand since every worker cannot do this task very well. If not, they can purchase pre-bull nosed trim tiles to do the edges. But this is a bit harder since trim pieces that go with the color and size of the tiles could be found very rarely. But there are certain tile manufacturers who perform a wise job of making these trim pieces to match the colors and sizes of all types. So, you can buy these trim pieces from one of them.
Individual Stair Visibility
All the people are not capable alike to judge where a tile in raisers starts and ends? That capability or disability comes through practice and experience they get when going up and down the stairs. It's something that lies in one's sub-conscious mind. The height and width of a stair matter a lot in this illusion of where the step ends and the next one starts. Generally, a stair riser should be 7 inches maximum. And the width of a step should reach 6 inches.
Stairs must be slip-resistant
Whatever the material used to make the stairs they should never be slippery. There are ceramics that are highly moisture-resistant. Matt tiles are better in this regard since they have a high friction. So, they're less slippery. In order to prevent accidents, you must buy a non-slippery tile available in the market.
How can you select the best variety of tiles for your projects?
Well, that's the most important part of your project. Even if you employ best workers and spend lots of money to make the tiling process successful, if you do not choose the right materials, you'll be a failure. Therefore, make it a habit to select tiles from a reliable source like Finecraftsimports.com. They're the experts in the tile industry today. Mexican Talavera tiles for the raisers will do a good job making the whole project a huge success.
Talavera tiles are meant for a wide variety of purposes. They are decorative, perfect and always good looking. The beauty they establish in a place couldn't be expected from any other variety available today. Alfredo Cortes' Finecraftsimports.com is spreading their clarion call throughout the world tile industry by now. He guides his employees to take great responsibility to issue all the tile products in the best possible quality. Careful packing and on time delivery protect all these products until they reach the hands of the client. So, you can always count on them for flawless and worth-buying products. Mexican Talavera tiles used in stair raisers never give you trouble. So, keep utmost confidence on Mexican Talavera products. They would be ideal for your stair raisers.